Kangra Toy Train unlike the Shimla-KaIka train, where the passengers spend most of the time going through tunnels, the Kangra toy train- linking Pathankot and Joginder Nagar gently meanders through a maze of hills and valleys, offering the travellers enchantingly scenic views. The work on this line started in 1926. Three years later this, 163 km long route was opened to traffic.
The entire route commands glorious views of nature and unveils myriad facets of history, art and culture. The grand spectacle of Kangra Valley begins unfolding after the train crosses Nurpur. Hillocks rise on both sides and as the train moves over the innumerable bridges built across meandering streams, the Dhauladhar begin to gain in prominence. Emerging through Daulatpur tunnel and past the ruins of the old Kangra fort, one is surprised by the change in the landscape.
The Dhauladhar rise up 13,000 ft from the valley floor. The wide Kangra Valley, with its well-watered terraces, is simply superb. As the train inches on, the passengers adore the open countryside and the shining white peaks. An unmistakable pine scent fills the air and the track is suddenly fringed on both sides by the tea gardens of the Palampur region.
A trip on the Kangra toy train is a thrilling experience. It is an unmatched way to savour the beauty of the Kangra Valley. At Joginder Nagar, Himachal Tourism offers a unique herbal package track in Himalayas which unfolds the ecstasy of Himalayan medicinal plants and creates awareness about depleting bio-resources.

I. Pathankot-Joginder Nagar

PBJ-Dep: Pathankot (2.15 AM) Arr: Jogindernagar (11.25 AM) PBJ-Joginer Nagar (8.00 AM) Arr: Pathankot (5.30 PM) Fare: Ordinary Rs.27/-

2. Kangra Queen

Dep: Pathankot (8.20 AM) hr: Palampur (12.15 PM) Dep: Palampur (1.45 PM) Arr: Pathankot (6.45 PM) Fare: Ist Class Rs.330/- Chair Car Rs.310/- 2nd Class Rs.190/-

3. Pathankot-Baijnath

(lPB) Dep: Pathankot (4.10 AM) Arr: Baijnath (10.45 AM)

(2PB) Dep: Baijnath (4.20 PM) Arr:Pathankot (10.40 PM) Fare:Ordinary Rs.25/-

4. Pathankot-Baijnath

(7PB)Dep: Pathankot (4.00 PM) Arr: Baijnath (10.30 PM) (8PB)Dep: Baijnath (5.35 PM) Arr: Pathankot (11.55 PM) Fare: Ordinary Rs.25/-  

5. Pathankot-Joginder Nagar

 (3PBJ)Dep: PathankOt (10.55 AM) Arr: Joginder Nagar (6.25 PM) (4PBJ)Dep: Joginder Nagar (12.20 PM) Arr: Pathankot (10.30 PM) Fare: Ordinary Rs.27/-  

6. Pathankot- Jawalamukhi 

(l]P)Dep: Pathankot (5.45 PM) Arr: Jawalamukhi (9.45 PM) (2JP)Dep: Jawalamukhi (4.50 AM) Arr: Pathankot (8.30 AM) Fare: Ordinary Rs.15/-.


BRIEF HISTORY
The railway line was planned in May 1926 and commissioned in 1929. The line has two tunnels, one of which is 250 ft (76 m) and the other 1,000 ft (300 m) in length. Trains on this narrow gauge line are pulled by small and less powerful engines than on a broad gauge main line, therefore steep ascents had to be avoided. But instead of expensively boring through the mountains on a straight way, a much longer right-of-way further south was chosen that allowed gentle slopes. From 1942 to 1954 there was no train service east of Nagrota.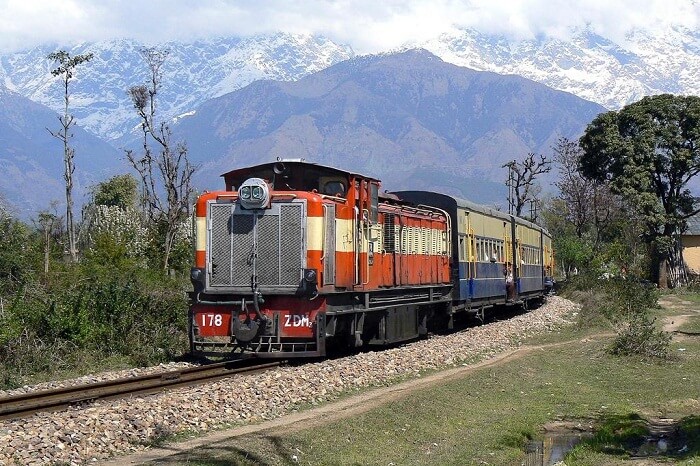 When the Maharana Pratap Sagar was constructed, the line had to be diverted between Jawanwala Shahr and Guler into higher grounds along the eastern shore of the new reservoir. In 1973, the section between these two stations, along with Anur, Jagatpur and Mangwal stations was abandoned, and the new alignment with several new stations opened three years later.
Indian Railways has identified Pathankot-Jogindernagar route to be converted into 1,676 mm (5 ft 6 in) broad gauge and to extend it to Mandi, and eventually to Ladakh via a new Bilaspur–Mandi–Leh line.
like it..??share with friends.